Campus Dining offers meal plans
Plans will use M-Cards that can be swiped at campus dining
Issue date:
7/17/07
Section:
News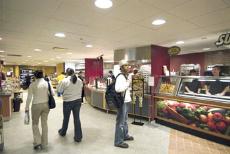 Media Credit: UM-D
The University of Michigan-Dearborn campus dining has instituted meal plans for its students.
Meal plan accounts use "Debit Dollars" that are placed on a student's M-Card. Students can swipe their cards at McKinley Café, Java City and the Fairlane Food Court.
The Gold plan, $100, has a $15 bonus while the Blue plan, $50, has a bonus of $5. There is also a Silver plan for $25.
Credit can be put into student accounts through cash, credit cards or money orders by signing up at McKinley Café.
If a student still has Debit Dollars left over at the end of a semester, the credit will transfer to the following semester.
Students can track their account balance by viewing it every time they make a purchase.
According to Kathleen Herr, University Center director, meal plans are something the university has been trying to coordinate for the past three years.
"The goal goes back to when we initially were hiring food services. It was something we wanted them to do," Herr said.
"I believe it is truly something the students want and will benefit from," she added. "It is convenient and saves students from using gas to leave campus to get food."
Herr said the meal plans won't be costing the university much money.
Aside from printing brochures and gathering man power to brainstorm ideas, the university already has the equipment and students can use their already existing M-Cards.
"We are starting small, with the hope of going big," said Herr.
She says the eventual goal is to expand the service to include vending, the bookstore and even copying.
Students are generally responding positively to the new plans.
"I've made it this far without one, but I will probably look into getting one because of the convenience," said sophomore Ken Sith.
"I can understand why people might not pay attention to it, because it is 'I can always bring food from home,'" he added, "or, college students like to go out with friends. But it's a good idea."
"I believe the meal plans will boost use of the food courts and in turn, encourage all food services to expand their selection and hours in both the University Center and Fairlane Center," said Student Government President Abdullateef Muhiuddin.